Fire resistant safes
Data storage
Fire resistant safe, model BWK 197
Fire resistant safe, detail
Fire resistans safe, special model for dimension and interior
Databox, model 6720
Fire! How ever much you want to remain protected, an accident could be hiding just around the corner. We therefore have numerous types and designs of fire safes for you. Fire safes that are able to resist the hottest fires and protect your data against the devastating effects of heat and extinguishing water. When buying a safe please pay attention to the difference in fire-resistance for paper and digital data carriers.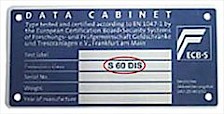 Fire resistant safes
The perfect fire resistant safe. Tested and approved by TNO for one hour of fire resistance. The test: the fire safe was placed in a fire and then heated in accordance with NEN 3884 to 920°C. The maximum permitted temperature in the safe under those conditions is 175°C and the fire safe temperature 'only' reached 124°C, which was therefore well within the permitted temperature range.
The fire resistant safe can be supplied with, amongst other things, hanging file storage systems and shelves. Customised modifications covering size, layout and locks are always possible.
Databox

The Databox protects CDs, DVDs, diskettes, magnetic tapes, films, negatives and video tapes in the event of fire, because the temperature remains below 52°C and the air humidity below 80% for a period of 30 minutes.
Databoxes can of course be placed individually in our fire safes so that their contents can also be stored securely.